Dashboard
Print Created by: Symbol Support
When reading the dashboard it is split into 10 sections with different information related to your company's security risks.
Corporate Cyber Risk
A calculated score based off of corporate training, corporate phishing, phish button (if enabled) and dark web (if enabled) scores to create an overall corporate cyber risk. The risk ranges from:
High risk ( 59% and below)
Poor (60-69%)
Fair (70-79%)
Good (80-89%)
Excellent (90-110%)
For more information on cyber risk click here.
Domain and Email Threat Alerting
This add-on feature allows your company to become more aware and take action if your domain or users have information that has been found on the dark web. For more information on the Domain and Email Threat Alerts options click here.
Email Threat Alerts
As a part of Domain and Email Threat Alerts this number is the amount of possibly email credential threats that are found based on your users' list


Domain Threat Alerts
As a part of Domain and Email Threat Alerts this is the amount of possibly risky domains that are similar to your company.
Users count
This box will appear on the right side of the screen and will display the real-time users.
Summary Reports
Monthly Summary Reports summarize what happened across the platform for the most recent month. If your company is NOT subscribed to a specific service, or if no activity occurred, then there will be no reporting to share for that service.


Once a new monthly report is ready for the company, the app will display it on the right panel of the dashboard. Learn more about the monthly summary reports here.

Owners of each company will receive a copy of these reports via email, if you're not receiving these emails please ensure your notifications are enabled.
Phishing Simulation Stats
Emails sent: Represents number of phishing emails sent overall.
Phish Clicks: Represents the number of phished emails that were clicked on by employees.
Shared Data: Represents the number of employees that clicked the simulated phish email and interacted with the simulated dashboard.
Click Rate: Shows the percentage of phish emails that were clicked on.
Click Factor:Compares the click rate to that of the best practices average ( 5%) to give the overall rate above or below that average your company is operating.
Phish Alerts
Using the outlook Phish alert button admins can see the amount of emails tagged as suspicious and access the list of reported emails. For more information on what the Phish alert button does click here.
Running Campaigns
This feature shows which long or short campaigns are currently active. For any questions related to campaigns click here.
Cyber Champs
Admins will be able to see the company leaderboard on the dashboard, it will display the top 5 users with more points in the company.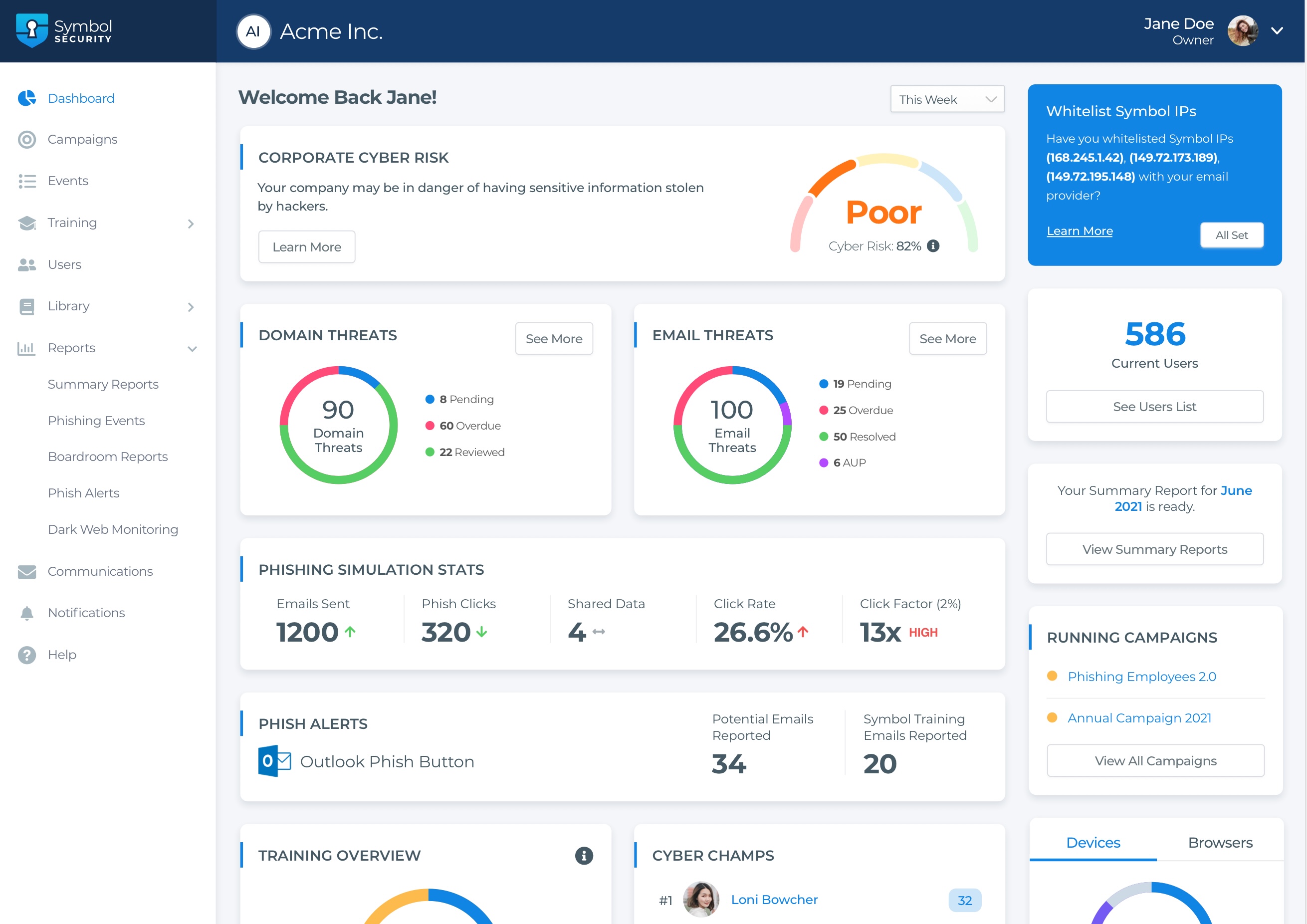 S Symbol is the author of this solution article.