Are New Users automatically added to Campaigns?
Print Created by: Symbol Support
The short answer to this is 'No - they are not added automatically'. Short Campaigns cannot be edited in any way once they are running. But, for Long Campaigns, we have a couple of easy ways to add users to those currently running campaigns.
If you have a Long Campaign running for your Company using the option to target All Users in your roster, you need to keep in mind that new users added to your list won't be automatically added to your campaign.
When creating a new Long Campaign, only the number of users that are listed with your company at that time will be added to the campaign. So, if you add more users to your roster while the campaign is running, this means they will need to be added to those Long Campaigns in order to ensure they are participating in the training.
The easiest way to add New Users to an actively running Long Campaign is the use of the notification in the Users List section that says "New Users Training". This offers clear steps on how to take newly identified users and add them to Running Long Campaigns. You can read the following article to see more information about this: Adding New Users to Running Long Campaigns.
In the case of a running Long Campaign where your users are beyond the 'New User' time period of 14 days, or are not showing up as 'New Users' in the Users List, you can still add them to running Long Campaigns by editing the Long Campaign. In order to do this, admins will need to update targeted users list within the Long Campaign. To see this detail you can read the article here: How to edit long campaigns.
Reminder: In the case of Short Campaigns, they cannot be edited once the status has changed to "Running".
Adding Users to a Running Long Campaign: Example
Here's an example of a campaign that is already running and was set up with the option to include "All users". When the campaign was created in the past, there were 27 users on the list. Since that original launch date, new users were added to the Company so that the number of users changed from 27 to 30. In order to add these new users into the active campaign, Admins can 'edit' the running campaign, click 'Edit Target', and then save the running Campaign with the new total Users list updated to the current 'All Users' roster. The visual is below: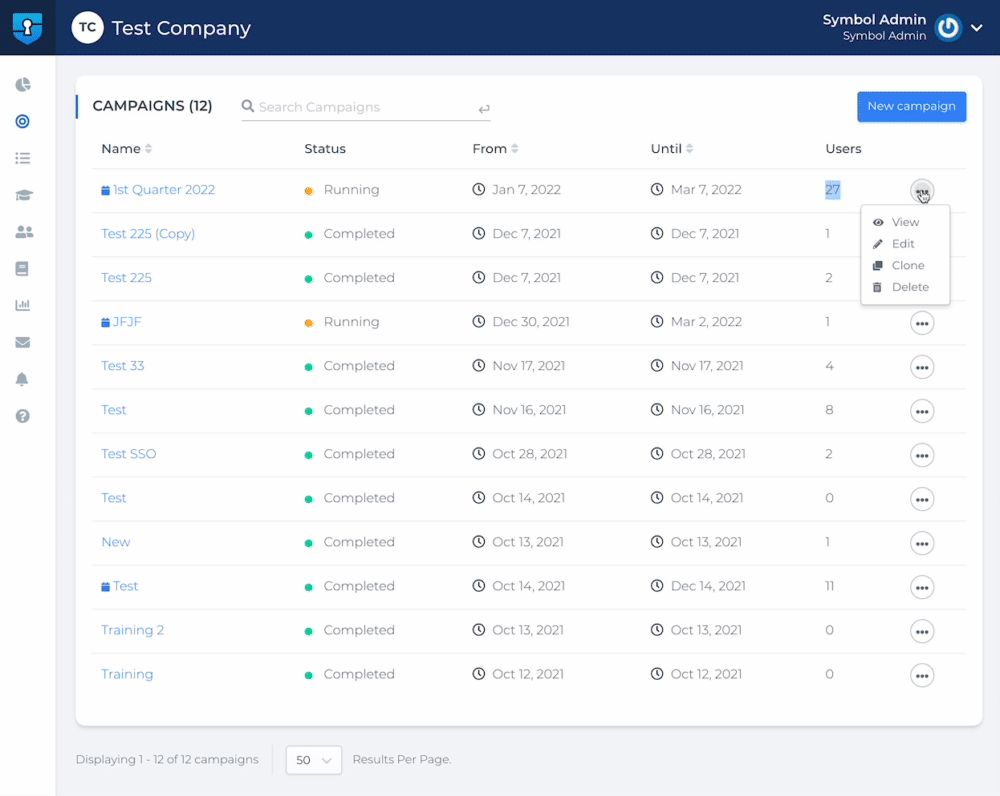 If you have any question please reach us at support@symbolsecurity.com and we can help you.
S Symbol is the author of this solution article.